Pipe Flow Expert Software Licensing / Pricing Information
Software License Pricing
The software is priced in U.K. pounds, however final payment can also be taken in U.S. dollars or Euros when paying via credit card through WorldPay, our chosen online payments system that is part of the second largest banking group in Europe.

Click Here for Current Prices and Costs for all Pipe Flow Expert Software Licenses.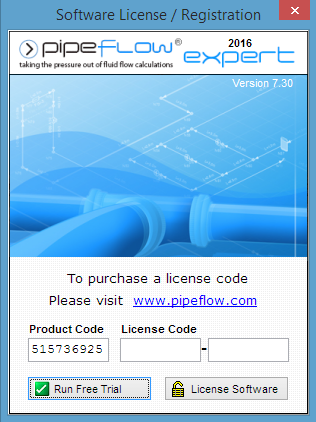 Purchasing a License
When the program is installed it generates a unique product number that is shown on the licensing screen when you run the program. Each installation of the software requires a matching license code that can be purchased from our web site. Once enabled, the software can be used for an initial period of time (normally 12 months) on the machine where it was installed. You do not require an internet connection when licensing and enabling the software.

Moving a License
We have a method of allowing a user to move the license to another machine and this service is provided free of charge.

Network Licensing
Pipe Flow Expert now supports network licensing and easy installation to a shared drive. It's as simple as installing a single copy of the program.

You can purchase a network license for 5 or 10 users from our web site. If you have additional requirements then email us to see if we have a bespoke solution for you.

Software Distribution Note
All of our software is provided via download from our web site or is supplied on a USB drive. Each installation of the software will generate a new unique product code and a matching license code will be required to enable use of the software.

New Customers
Those of you who have previously purchased software from us will already be assured of our reputation and will not be concerned about receiving the software via download. However we understand that as a new customer you may be concerned that you do not get a CD with the software on.

If we provided the software on CD it would be the exact same program that you can download from our web site (in fact the web site will always carry the very latest version of the software). Having a CD would not allow you to install and enable the software on multiple computers, since each installation would still generate a unique product number and would require a matching license code.

If you want a 'hard copy' of the software then you can now purchase a license for Pipe Flow Expert on a USB drive. The USB drive allows you to plug it in to any computer and you can then run the Pipe Flow Expert software directly from the USB drive (there is nothing to install). Note however that our licenses are time limited and you will need to pay the Annual License Renewal fee in order to keep your software licensed.

When you purchase a software license from our web site, you will automatically be emailed with a unique purchase token and an invoice/receipt that confirms your purchase. This is all you need for proof of purchase and we will always be able to confirm your purchase in our database.

We have sold software via download for over 10 years. We are not one of those companies that you will not be able to contact or get a response from. As our existing customers know, our service and assistance with any issues you may have is worth far more than just having the software on CD.

Summary
Pipe Flow Expert can be downloaded and installed for a free trial.
A license code can be purchased from our web site that will fully enable the software for an initial period of time.
A user can be up and running with a licensed version of the software in less than 2 minutes.
Support and free upgrades to the latest version are provided during your license period.
The license can be renewed annually at a relatively low cost and this provides ongoing use of the software, technical support, help with modelling issues and guarantees that you will always be able to use the latest version of the software.