Pipe Flow Expert Software - Overview of Pressure & Flow Calculations
Do you need to calculate the fluid flow rates and node pressures in a pipe network?

Pipe Flow Expert is designed to help today's engineers analyze and solve a wide range of problems where the flow and pressure loss throughout a pipe network must be determined. The Pipe Flow Expert program will allow you to draw a complex pipeline system and analyze the features of the system when flow is occuring. Pipe Flow Expert calculates the balanced steady-state flow and pressure conditions of the system. It will allow you to perform analysis of different pipe system designs under various operating conditions.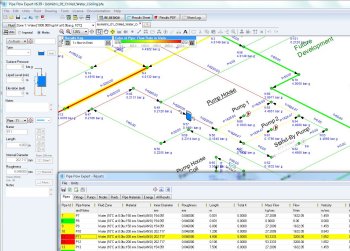 The reported results include:

Flow rates
Fluid velocities
Reynolds numbers
Friction factors
Pipe losses
Fitting losses
Component losses
Pump operating points
Pump head generated
NPSHa at pump inlet
Pipe pressure drop
Pressures at nodes
HGL values


The input and display of system information on the Pipe Flow Expert drawing and in the results tables can be shown in metric or imperial units to suit your preference and specific units for each item (such as pipe flow rate) can also be configured and set on an individual basis as required. Pipe Flow Expert has been designed for the professional engineer who needs a powerful tool that has a class leading, easy to use and robust interface that makes it simple to design and analyze pipe networks.
Pipe Flow Expert will provide instant answers to complex network problems.

If you need to perform pipe flow calculations to work out pipe flow rates then stop worrying about the pipe flow equations and let Pipe Flow Expert provide you with instant answers to complex probems.

Click here to download PipeFlow Expert for a FREE trial!