Note: The fluid data listing contains viscosity information in Centistokes. This is a common method of expressing viscosity. Usually the Centistokes value has been converted from some timed test methods of establishing viscosity, such as Redwood 1 (Britain), Saybolt Seconds Universal SSU (U.S.A.) or degree Engler (Germany).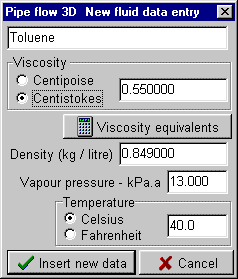 The S.I. units for Centistokes are:

1 Centistoke = 1 mm² /s = 10-6 m² /s
This is known as Kinematic Viscosity.


Centipoise is an another method of expressing viscosity.
The S.I. units for Centipoise are:
1 Centipoise = 1 mPa s = 10-3 Pa s
This is known as Absolute Viscosity.

Care must be taken to enter the viscosity in the appropriate Viscosity Units when entering new fluid data.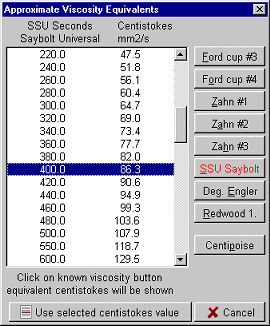 Viscosity Relationship

Kinematic Viscosity = Absolute Viscosity / Fluid density
Where the fluid density is Relative Density (to Water) = 1000 kg / m3 = 1 kg / litre = g / cm3

Approximate viscosity equivalents

A listing of some approximate viscosity equivalents is included to assist the user in converting from various viscosity scales to Centistokes.

---
Use Pipe Flow 3D to carry out your calculations
Download PipeFlow 3D for a FREE trial!