Pipe Flow Expert 2010 v5.12 Released
April 5th 2010, PipeFlow.co.uk today announced the release of PipeFlow® Expert 2010 version 5.12, a major upgrade to the Microsoft Windows desktop application software for calculating flows and pressure drops in pipe systems.





Pipe Flow Expert 2010 is a premier software application for designing and modeling fluid flow in a pipe network. It models both open and closed loop pipe systems, calculates flow rates, pipe pressure drops, friction losses, pump operating points and much more.

Pipe Flow Expert 2010 contains significant program enhancements in 3 main areas:

a) Amazing PDF Reports (customized PDF report generation with just a few mouse clicks)
b) New component for Cv/Kv modeling (allows specification of Cv and Kv flow coefficients)
c) Increased Screen Resolution Capability (enhanced experience for users with large wide screen monitors)
d) Enlarged Drawing Sheet (supports drawing sheet scale of 7100 x 5000 pixels )
e) Enhanced Fluid Database (Now includes over 400 fluid data points in total)
f) Enhanced Pipe Database (New pipe material / schedules, with over 180 new rows of pipe data in total)

The amazing new PDF Report Generation features allow a user to quickly select the items of data that they wish to include and then with just a few mouse clicks the software will automatically produce a customized PDF document that includes:
Cover sheet generation with capability to add your own logo
Scalable vector drawing of the pipe schematic for high resolution printing
Customizable tabulated results for fluids, pumps, pipes, nodes and energy data
The PDF Results Report is great for customer presentations and documenting your pipe design.

The new Cv/Kv component allows for the specification of Cv and Kv flow coefficients, where the calculated solution solves for flow and pressure loss characteristic defined by the Cv/Kv value. This feature is great for modeling valves where the Cv or Kv value is known. The program also includes a helper for determining a Cv or Kv value based on a known flow rate / pressure loss relationship.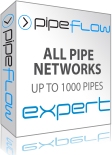 "Our Pipe Flow Expert Software is now the program of choice for anyone who designs, builds, operates or maintains a pipe system. It has an incredibly easy-to-use interface that allows users to get up and running quickly, which is a major advantage over competing programs. It has a robust calculation engine and provides unbeatable value-for-money in terms of the comparatively low cost software licensing options, coupled with unrivalled software support. That's why Pipe Flow Expert is used by engineers in over 75 countries worldwide." said David Gardiner of PipeFlow.co.uk.



The Pipe Flow Expert software includes support for simple network licensing, allowing multiple users to run the software from a shared hard disk drive, without needing to install any other licensing software, and the software is also available on USB Drive that can be moved between machines via simple "Plug & Play".

Pipe Flow Expert is used by a wide range of engineers and companies, from individual design consultants through to large middle east oil companies; anyone that needs a powerful piping system design tool, which they can rely on to calculate flow rates, size pumps, check NPSHa, and find pressure losses in a pipe system. Pipe Flow Expert 2010 is available now for a free trial:

Solve the flows and pressure drops in your pipe system - Download Pipe Flow Expert now

About PipeFlow.co.uk - PipeFlow.co.uk (www.PipeFlow.co.uk) is owned by Daxesoft Ltd, a UK registered company. It has used PipeFlow as a trading name for over 10 years. PipeFlow designs and develops fluid flow and pressure drop calculations software that is used by engineers in over 100 countries worldwide. PipeFlow has over 1800 clients in a variety of industries including aerospace, chemical processing, education, food and beverage, general engineering, mining, petrochemical, pharmaceutical, power generation, water and wastewater processing.

For more information please email info@pipeflow.co.uk